ABOUT US
Our official DON DON DONKI Membership App not only deliver you news of our latest events and promotions, it will also provide you hassle-free management of your membership with us.
Download now and start earning dMiles to redeem awesome gifts
Features of DON DON DONKI App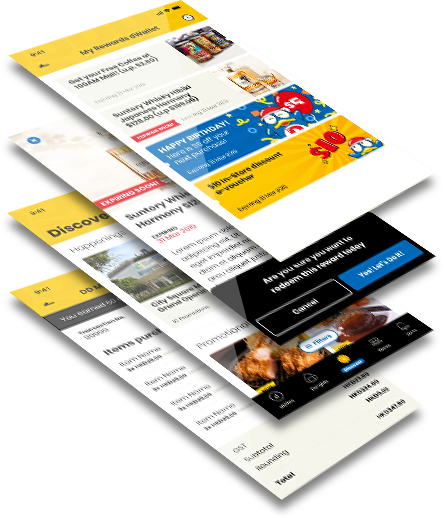 Be a Member

Download the Donki App and sign up as a member to earn dMiles. Exchange your dMiles with our variety of rewards selection

Exchange coupons

Exchange your dMiles for coupons. You can easily redeem them by showing your app to our cashiers.

Stay updated

Be instantly updated with our latest promotions, events and news

Climb the rank

Spend more to accumulate dMiles faster and enjoy bigger surprises
Notes
iOS

Operational assurance environment iOS 11+ ※Operation is not guaranteed for iPad (tablet terminal including iPad mini).

Android

Operational assurance environment Android 7+ Please ensure that your location service is turned on ※We do not guarantee the operation of the tablet terminal.
RANKING SYSTEM GUIDE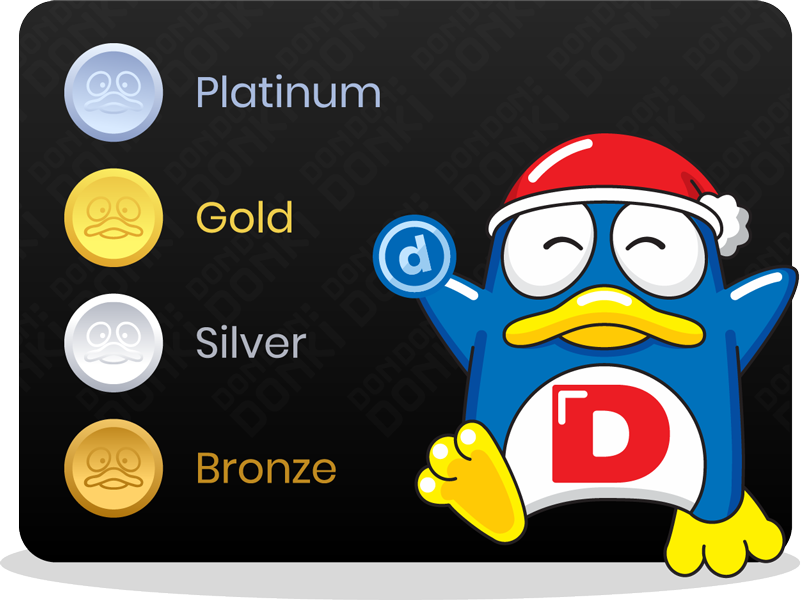 RANK and dMILES
| RANK | dMiles GRANT RATE | RANK UP BASE AMOUNT |
| --- | --- | --- |
| BRONZE | 1x | $0 - $1,999 |
| SILVER | 2x | $2,000 - $4,999 |
| GOLD | 3x | $5,000 - $14,999 |
| PLATINUM | 4x | $15,000 ~ |
dMILES CHART
| USAGE AMOUNT | | BRONZE | SILVER | GOLD | PLATINUM |
| --- | --- | --- | --- | --- | --- |
| $ | | 1x | 2x | 3x | 4x |
| $1.00 | | 1 dMiles | 2 dMiles | 3 dMiles | 4 dMiles |
| $10.00 | | 10 dMiles | 20 dMiles | 30 dMiles | 40 dMiles |
| $100.00 | | 100 dMiles | 200 dMiles | 300 dMiles | 400 dMiles |
| $1,000.00 | | 1,000 dMiles | 2,000 dMiles | 3,000 dMiles | 4,000 dMiles |
$1.00

BRONZE

1x

1 dMiles

SILVER

2x

2 dMiles

GOLD

3x

3 dMiles

PLATINUM

4x

4 dMiles
$10.00

BRONZE

1x

10 dMiles

SILVER

2x

20 dMiles

GOLD

3x

30 dMiles

PLATINUM

4x

40 dMiles
$100.00

BRONZE

1x

100 dMiles

SILVER

2x

200 dMiles

GOLD

3x

300 dMiles

PLATINUM

4x

400 dMiles
$1,000.00

BRONZE

1x

1,000 dMiles

SILVER

2x

2,000 dMiles

GOLD

3x

3,000 dMiles

PLATINUM

4x

4,000 dMiles